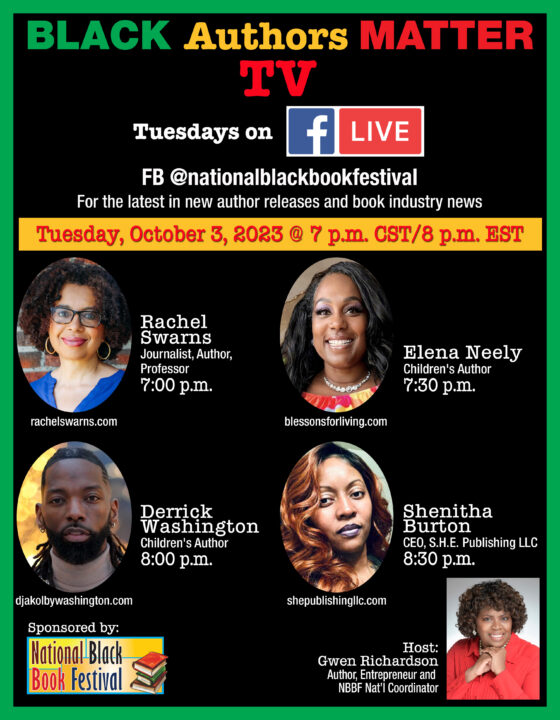 You don't want to miss being part of this innovative platform that features new author releases and the latest book industry news. On Tuesdays at 7:00 p.m. CST Black Authors Matter TV features authors and industry experts that are making a difference in African-American literature. One-on-one interviews are conducted via Zoom and streamed live on the National Black Book Festival's Facebook page with 91,000+ followers. The show is also a podcast on the top six podcast platforms, including Spotify, Apple, Amazon, and Google.
This incredible exposure costs only $179.00. Here's what your package includes:
Inclusion in the continuous FB and Instagram promotion that will occur for one week leading up to your interview (as shown in the graphic here).
A 25-minute interview via Zoom to discuss your most recent book, your book tour or event, your vision, your upcoming projects, etc. The interview will be live-streamed on Facebook and saved in our video archives once completed, as well as major podcast platforms and our YouTube channel.
An MP4 file of the interview to post on your website or social media platforms.
Guaranteed inclusion in the nominations process for the 2024 Black Authors Matter TV Awards.
A custom Black Authors Matter t-shirt (at no additional cost). Sizes range from XS to 5XL.
A maximum of four featured guests are interviewed each week. We are currently booking for the months of October and November. Reach more readers and sell more books!
View previous episodes of Black Authors Matter TV here
Purchase your Black Authors Matter TV Ad Package for $179.00 by selecting "Add to Cart" below:
Interested in sponsoring one of the weekly Black Authors Matter TV segments? Be a sponsor for only $99.00 and receive four mentions throughout the first available weekly live-stream event. Order your sponsorship by selecting "Add to Cart" below:
Order your Black Authors Matter merchandise here
View the 2023 Black Authors Matter TV Awards Show here
If you have any questions, please contact Gwen Richardson, web site manager, toll-free at 1-800-340-5454.